---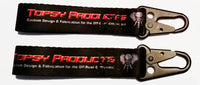 Sale
Replacement Strap Kit -Rear SHORT (2 straps). Which hoists does this work with? Check out our Choosing a Hoist page for more info. 
Used to attach the rear hinge bracket to Topsy T-bar, Racor or similar 1 1/2"x 1" bar.   Overall length is 6"  Opening for bar is 2 1/2". 
Includes 2 Straps, 1 short left strap and 1 short right strap.*
 *Strap color may vary do to current supply chain issues.